Urban Coup at Melbourne Sustainable Living Festival
Submitted by Urban Coup on Mon, 2013-07-08 16:12
There was standing room only in the tent venue known as 'Under the Gum Tree' at the Sustainable Living Festival in February, when Urban Coup members participated in a panel session Living Sustainably Through Co-Housing.
Facilitated by long standing 'Urban Couper', Sally MacAdam, the panel with Brenda Appleton, Gitanjali Bedi, and Fiona Armstrong talked about what co-housing is (shared common facilities, including open spaces, that are community owned, with private dwellings) and what is is not (a commune, a group that shares all their assets, a open community with no individual privacy).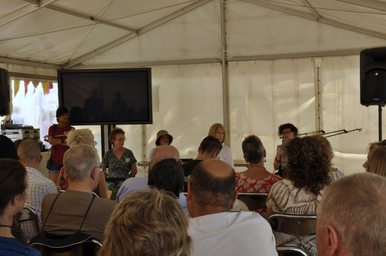 Brenda Appleton also spoke about the legal and administrative arrangements for Urban Coup and the prospect of a cooperative arrangement between Urban Coup and a social housing developer. Gitangili described co-housing as offering social and community benefits, and Fiona pointed to the opportunity for this model of urban living to provide a positive way of responding to climate change.
Audience questions ranged from affordability of dwellings in the proposed Urban Coup co-housing development; the kind of demographics represented in the Urban Coup community; and the processes that help guide decision making.
Giselle Wilkinson from the Heidelberg Heights co-housing project Murundaka was on hand to answer questions about a fully functioning co-housing community and share examples of how co-housing is working in the Murundaka community.
Many forum participants subsequently visited the Urban Coup stand at SLF - with SLF volunteers reporting over 400 conversations with people over the weekend of the festival.
Enquiries came from a hugely diverse range of people from all over Australia as well as internationally. Urban Coup volunteers report talking to lots of young people as well as families, singles, couples, and older people. Many people were interested in renting or in social housing options; others were interested in co-housing from an environmental / sustainability or community perspective.
The enthusiasm seen at SLF suggests there is a real future for co-housing!