Urban Coup Information Session - Richmond 16 March 2013
Submitted by Urban Coup on Mon, 2013-07-08 17:30
Our information session at Richmond Library in March brought together many new friends made at the Sustainable Living Festival in February and further indications of the strong interest this project is gathering in the Melbourne community.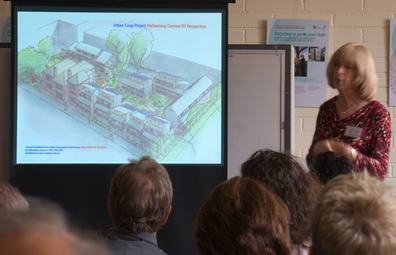 Around 40 people attended, many of whom has interacted with Urban Coup members at SLF at our stand in the green market or attended the Urban Coup forum at SLF on co-housing.
Many participants were clearly well informed about co-housing models and wanting to know more about the details of this particular project. This included a sizeable cohort of young people who are looking for affordable housing but are not in a position to buy. There is clearly a demand out there for both a mix of privately owned and social co-housing models and those like Murundaka in Heidelberg Heights where there are lots of rental options.
The strong demand for Urban Coup memberships and interest in the concept of co-housing is leading to some Urban Coupers beginning to talk about Urban Coup Stage Two! to accommodate growing demand.