Social Saunter – Getting the measure of apartment living
Submitted by Urban Coup on Sun, 2015-05-31 16:40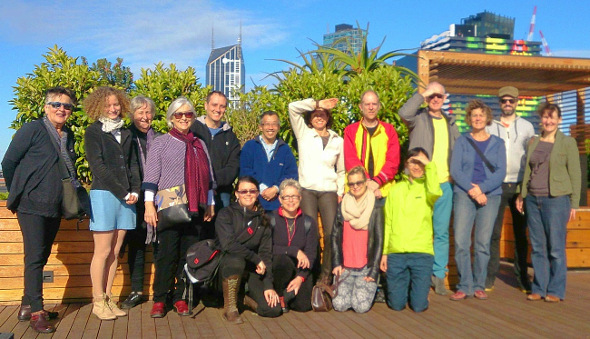 What does 50-55m2 look like in 3D? Although the architect's drawings for multiple story/multi dwelling plans look great on paper, it can be hard to visualise the size of the rooms, the feel of the space and where those last 200 books are going to be stored. So a social saunter was organised to visit several apartments to give members an appreciation of compact living.
We were lucky to have some folks in the inner northern suburbs around Brunswick willing to open their homes to us to help clarify our thinking around dwelling sizes. The current Urban Coup design brief has the one bedroom apartment sized at 50 - 55m2, two bedrooms at 70m2 and three at 90 - 95m2.
About 15 people gathered at the first location in Carlton, a one bedroom, north-facing apartment. Measurements were taken; discussions on layout, commercial build practices, design and storage ensued. We made a quick trip up to the rooftop, which had a few raised garden beds awaiting planting, a covered BBQ and seating area and breath taking views.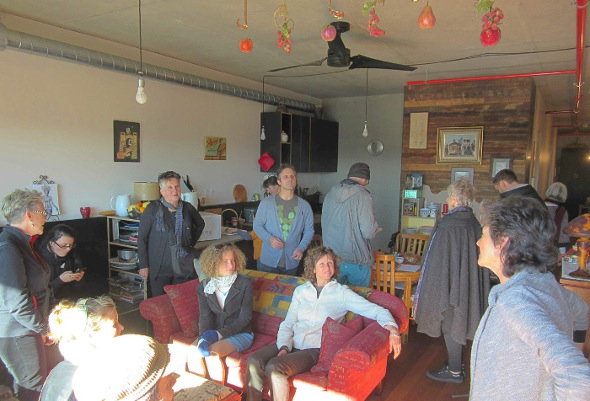 Next stop was a two bedroom home in The Commons –an architecturally designed five-story apartment block with sustainability built in. This apartment had many clever solutions for the limited space, including storage built into seating areas. We had started the tour with a quick trip to the basement area where each apartment had a locked storage area, then up to the roof to see the communal laundry, entertaining area and roof top garden. Again the view was fantastic, and there is nothing like walking around a space to get the feel of it. There was a wide ranging discussion on roof top veggie gardens, their viability and the work they required to overcome wind and sun exposure.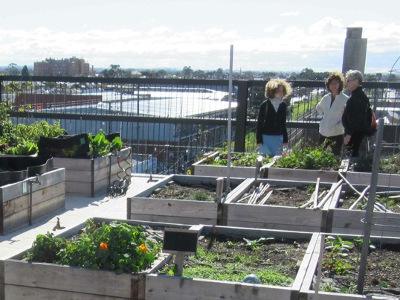 Before leaving The Commons, the group was able to have a quick look through a single bedroom unit before heading off to another (one bedroom apartment with study) location. More discussion, with cups of tea all round, finished off this very successful day.
Thanks to the folk who opened their homes to us and to Cath for organising this very practical tour, which will assist us in rising to the challenge of the inevitable downsize into a smaller space.