Design principles workshop with Paul Downton
Submitted by Urban Coup on Wed, 2013-03-06 16:40
Urban Coup's project is moving into a very exciting phase with new members following some great events at the Sustainable Living Festival in February.
On the first weekend in March a group of 20 of us headed off to Commonground near Seymour for a two day workshop on design principles with architect Paul Downton.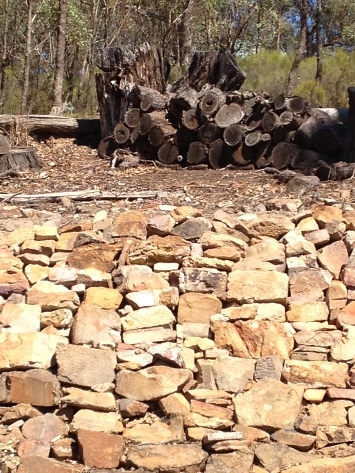 The prospect of a site for purchase has sharpened our thinking about what kinds of design principles will ensure the both the site and the buildings we construct that will meet our criteria for a healthy, sustainable, low carbon dwelling.
Paul Downton is the architect of Christie Walk, an inner urban co-housing community in Adelaide.
His approach to urban design is very much influenced by his thinking about how cities must (and can) respond to our changing environmental circumstances i.e. that building design and construction must take into account global resource scarcity and climate change, threats to biodiversity, and the need to scale back consumption.
Paul's skills and expertise also lies in designing to promote social sustainability and community resilience through incorporating design principles that facilitate incidental and spontaneous interactions within communities. Christie Walk for example has been designed to create multiple informal gathering spaces and integrate the co-housing community within the wider community, as well as provide for both social and more private and reflective uses of common spaces.
Core principles that emerged included over the weekend included:
a desire for beautiful and inviting spaces
requirement for natural light and ventilation to all habitable spaces
'passive design' that captures and utilizes natural assets such as sunlight and wind and uses thermal mass for insulation to enhance energy efficiency and promote living comfort
interesting and indirect pathways
diversity in building shapes and structures
the use of healthy low toxic sustainable materials
reuse of existing buildings and/or materials
profusion of plants, trees and shrubs
the creation of habitat for native birds and animals
private and communal spaces
sunny outdoor communal living spaces
clustered parking so cars don't dominate on the site
renewable energy
Commonground provided a perfect setting for Urban Coup's deliberations, set as it is on 95 acres of bush, and in an environment that fosters organisations engaged in social change. Urban Coup members enjoyed some fabulous shared meals, delicious local wine, good coffee (yes, really) and (during Workshop breaks) admired the view - and the amazing Commonground veggie patch - see below.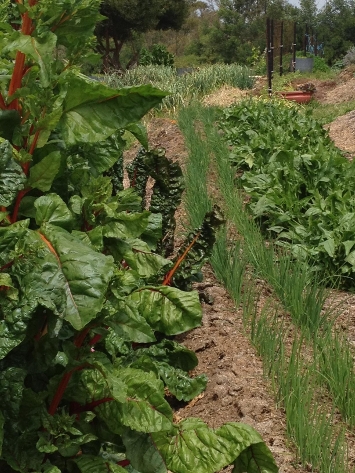 Urban Coup's next community event is an Information Session on Saturday 16th March at 11am at the Richmond Library. For more information see www.urbancoup.org